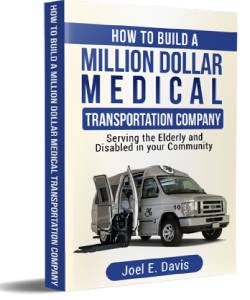 Often referred to as the "Bible of the Industry," this best-selling 315 page manual is offered in ebook format to be downloaded immediately following your investment. From start to finish you will discover all of the licensing and registration requirements necessary to build your successful medical transportation business. You will learn detailed systems, processes and strategies that you will want to build and integrate so as to position your NEMT business for long-term growth and prosperity. There is no other resource like this on the market - Guaranteed! This is the foundational resource that you will absolutely need to read and digest several times over before starting your medical transportation business. Joel's information and strategies are very direct, detailed, straight forward, and high in content.


Joel's "How to Build a Million Dollar NEMT Business DVD Series"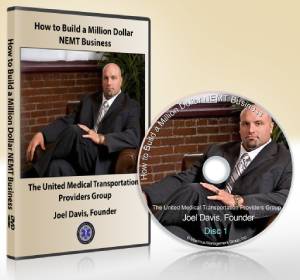 "Joel's newest DVD Series, "How to Build a Million Dollar NEMT Business" is in response to many changes in our growing industry and demand from many client-providers seeking help in starting a new or seeking to improve an existing NEMT business. If you're serious about being successful in the NEMT industry, this five (5) disc resource is a MUST see! You will want to study these DVDs several times over. For a limited time, with your investment in the Series you will also receive a FREE copy of Joel's "NEMT Business Valuation Process," a literal recording from one of Joel's live events where he discusses the criteria he uses when evaluating an NEMT business - typically for sale or acquisition. Again, both of these resources are a must-study to ensure your success!"


Exclusive One-on-One Coaching & Mentorship with Joel Davis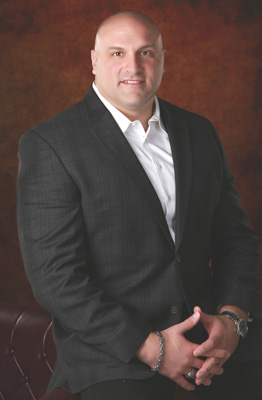 The value of personal coaching and mentorship cannot be understated! As Joel often says, "A smart man learns from his own mistakes. But a truly wise man learns from the mistakes of others - it's a whole lot cheaper and more cost effective!" By choosing to work One-on-One with Joel you are going to be able to literally avoid making many of the costly mistakes that he and other entrepreneurs suffer in starting a new venture in a growing industry. When you partner with Joel, you will be able to leverage his successes, failures, knowledge, experience and more. Because Joel's expertise is in high demand, this exclusive opportunity is extremely unique and personalized. If you are serious about being successful in this industry then take advantage of this exclusive opportunity. When you do you will receive over $1,000 in FREE materials to include Joel's ebooks, DVD's and more!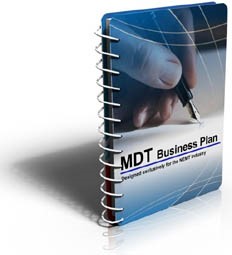 This is an extremely exclusive and highly targeted resource! The MDT Business Plan is designed exclusively for the non-emergency medical transportation industry. This is not a generic business plan or template that can be used for a variety of businesses or industries. Rather, this recourse if designed for the NEMT industry only. Created by Joel, this resource was reviewed and edited by one of his personal bankers not once, not twice, but three times! Why? Because according to Joel, "I want a business plan that is legitimately 'credit worthy' - a business plan that is 'bank approved'!" The MDT Business Plan provides a three (3) year startup financial strategy that is consistent with the strategies discussed in Joel's ebook and DVD Series. This strategy does not require a large amount of startup capital, numerous vehicles, or a large amount of assets. Rather, the MDT Business Plan is a progressive implementation that reflects the way that Joel and many other business owners built their NEMT business.


Dispatching Made Easy™ Software Solution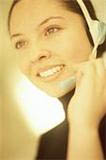 Upgraded from version 1.0, Dispatching Made Easy 2.0 is an online subscription-based dispatching software solution that offers users a host of enhanced features, flexibility and opportunities. Dispatching Made Easy is a visual dispatching method that is very popular with NEMT services as well as a growing number of taxi, limo, shuttle and courier services. Because DME 2.0 is a web-based application it allows users to access their account and dispatch drivers from any computer with internet access. With the assistance of mobile technology such as IPads, Galaxy's and more, dispatchers are no longer regulated to an office computer to control and manage their fleets. Such mobility gives users increased flexibility and diverse opportunities. Dispatching Made Easy™ is an evolutionary developmental system for which new features and functionality will continue to be launched to further enhance user's dispatch and logistics. Whether your business is big or small, DME 2.0 has unlimited storage and availability for client database growth and expansion.


How to Start a Successful Courier & Small Package Delivery Service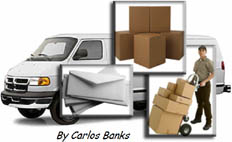 Authored by Carlos Banks, owner of "The Wheelchair Taxi" and "Quick Time Courier" based in North Carolina, this easy to read ebook illustrates the demand for and cost effective opportunities that exist in the growing transportation industry. Walking away from a 20 year career with the United Parcel Service, Carlos invested in Joel's Million Dollar NEMT opportunity and has never looked back! Leveraging his 20 years of experience with the UPS and the growing success of his medical transportation company, "The Wheelchair Taxi," Carlos expanded his transportation business into a courier service. Carlos' ebook is going to show you just how easy and cost effective it is to start your own courier service.