I found Joel's NEMT business through a random google search. To my surprise, whatever he said convinced me he was worth looking into. After viewing his YouTube videos, I was convinced he was the resource we would need to help us reach our goals. So, I purchased Joel's one-on-one online coaching which came with all the DVDs - wow! Everything I'll ever need; a bible for the NEMT business. It even has a fail-proof business plan included.
The first contact was with his online manager, Daniel. Daniel was very professional and very prompt with his email responses and was very helpful in answering all of my questions and concerns. This left me with a good impression already.
After receiving the Market Analysis, I was impressed to see how detailed, organized, and complete the information was. I knew this was going to make my life so much easier and save me a lot time. I was very pleased with the outcome.
▼Click Arrow to Read More
---
"I am so glad I met Joel and invested in his program to start my NEMT business because he guided me on the correct path and saved me lots of headaches and MONEY. Had I not decided to work with him I would have spent way more money and accomplished much less. Working with Joel is a well worth the business investment. I am glad I did and I will continue to work with Joel for the rest of NEMT business."
Kenan, New Jersey
---
Dear Friend & Fellow Entrepreneur,
Congratulations on pursuing your entrepreneurial passion! Great opportunities are missed by those believing they don't need help or assistance. By expressing interest in this exclusive One-on-One coaching opportunity, I can't thank and congratulate you enough!
The need for experienced coaching and consulting is growing, especially in the medical transportation industry where a booming elderly population and rideshare technologies are reshaping the industry.
Committed Entrepreneurs understand the value of time, money and knowledge. Study the history of any successful entrepreneur and you will discover that, at some point in their business development, they leveraged the counsel of a Coach/Consultant. Many times, successful entrepreneurs enlist coaches to assist with personal as well as business development.
Several reasons underscore the value and opportunity of an experienced Coach to include:
Sharing experiences, both successes and failures, to expedite business development


Identifying and enhancing strengths and opportunities while mitigating weaknesses and errors


Provide an unbiased, realistic, and critical perspective necessary to reduce risk exposure


Provide unemotional clarity to critical business decisions and strategic implementation


Establish improved sales, logistic, and human resource practices and procedures .
Since 2004, I have been working with NEMT Providers and Home Care Professionals from around the County. Providers have invested between $5,000 - $10,000 plus travel expenses to retain my services. However, through this exclusive One-on-One online coaching opportunity, you and I are going to be able to work together for a fraction of the cost!
If the cost of traveling to your office is not feasible at this time, I welcome the opportunity to work with you One-on-One by phone and online. If you need help building, troubleshooting, or diversifying your business, help with contract reviews or negotiations, this is your opportunity.
Click here to learn what client-providers are saying
about thier One-on-One experience with Joel


Details of this exclusive 60-Day One-on-One Coaching Opportunity:
You're going to receive (1) FREE copies of my best-selling ebooks, How to Build a Million Dollar Medical Transportation Company and Dispatching for Dollars, (2) FREE copies of my DVD Series, and (3) a FREE copy of the MDT Business Plan.


Once you have studied my ebooks and DVD Series, we will begin working together for two months, 60 days. We will communicate regularly. It is important that you contact me AFTER you have studied my materials to let me know you are ready to start. Everyone studies at a different pace, so, please make sure you contact me once you're done.


Our two months of One-on-One will start once you have thoroughly reviewed and studied my ebooks and DVD's. This will ensure a strong foundational understanding of what we will be discussing and assist in focusing on your needs to expedite your development.


Depending on your needs, we will establish and define weekly objectives and tasks to monitor our progress and ensure we are moving forward, achieving success.


Because we are working together, you will qualify for United Medical Transportation Providers Group Certification! This means when you become an active UMTPG member we will actively send personalized Letters of Endorsement and Certification on your behalf to facilities and contacts of your choosing.
Because there is only one of me and I need to focus on quality versus quantity, I must limit the number of Providers I work with each month. Therefore, I encourage you to invest in this exclusive opportunity ONLY if you are serious about enhancing your entrepreneurial education, building a successful business and achieving financial independence!
As I often explain, there are three types of Entrepreneurs; the Casual, Convenient, and Committed Entrepreneur. A Casual Entrepreneur is a "jack of all trades," doing whatever work they can muster. A Convenient Entrepreneur is more like an Independent Contractor performing the same type of job over and over because it is familiar and convenient. Unfortunately, a Casual and Convenient Entrepreneur own more of a job and less of a business.
Our goal in working together is to ensure you are a Committed Entrepreneur, building a thriving business that grows in size and profitability through your direct leadership AND in your absence. To do this, you need to develop profit-earning strategies and employ effective systems, policies and procedures.
Seminar attendees invest between $1,000 - $2,000 plus travel expenses to attend my live Seminars. However, with this exclusive One-on-One opportunity, you and I are going work together for a FULL 60 days from the luxury of your home. Plus, you're going to receive over $1,000 worth of FREE material!
For your convenience and to assist with your cash flow, I am providing two investment options. Select the opportunity best for you and receive FREE copies of my ebooks immediately following payment. Copies of my DVD Series and MDT Business Plan will ship to your doorstep the next regularly scheduled business day via the US Postal Service.
NOTE: By investing in this exclusive coaching opportunity you acknowledge there will not be a reduction in price for previously purchased products, items, or resources. Investment in this One-on-One Coaching Opportunity is reimbursement for Joel's time and effort exclusively. No request for pro-rated fees for previously purchased time or items will be granted. Further, investment in this exclusive opportunity is non-refundable. No refunds, either partial or full, will be granted.
Market Analysis: If you're new to the NEMT industry or you just need help researching and assessing the dynamic opportunities of your local market, then this opportunity will benefit you!
My staff and I will conduct a Market Analysis of your local community and provide a Report that can be used to further assist in developing your Business Plan and gaining Operating Authority.
This is an extremely unique and customized service in addition to our 60 Days of One-on-One Coaching. Developing a Market Analysis can take a couple months, but it will be unique to your local market. While you study my ebooks and DVD's, we will work on researching and developing your Market Analysis.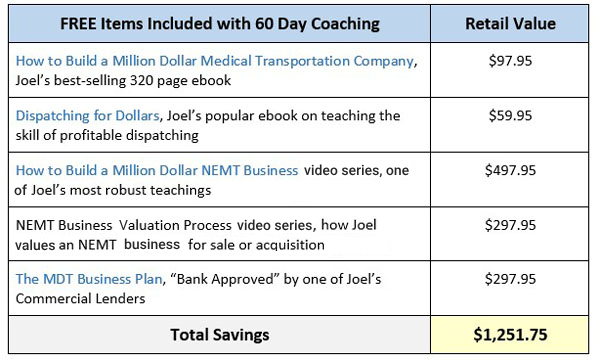 As I always emphasize, the importance of sharing and partnering with like-minded people is critical to your success. You need to surround yourself and learn from people who share your ideas, level of motivation, and philosophy. Therefore, ONLY invest in this Coaching Opportunity if you are serious about joining the 5% of people who retire wealthy and independent!
Rather than me continuing to tell you about the benefits of this opportunity, I will let the words of other like-minded Entrepreneurs speak to the benefit of this Exclusive One-on-One Opportunity! Click here to learn what client-providers are saying about thier One-on-One experience with Joel.